WELCOME TO
GYPSYJUDGE.COM
My name is Laura Melvin, and I'm a retired Circuit Judge from Florida who lives full time in my RV, thus the nickname GypsyJudge. I'm also an author, avid motorcyclist, a retired attorney, and a grandmother.  I set up this blog the summer of 2011 to report on a long distance bike ride I was making on my Honda Goldwing 1800.  I called it 4 Corners 4 Kids, and rode 12,888 miles solo around the 4 geographic corners of the U.S. (San Ysidro, California; Blaine, Washington; Madawaska, Maine; and Key West, Florida) to raise awareness of and contributions for four special charities that focus on the needs of children.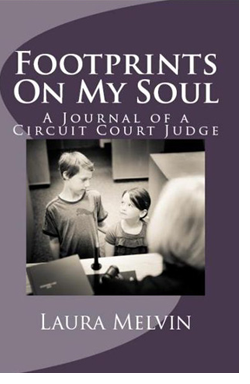 Then I expanded  the blog to include more recent travels and so we can talk about my book, Footprints on My Soul- Journal of a Circuit Court Judge. I hope you'll leave me a comment and share this blog and my website, www.LauraMelvin.net, with your friends.  You can also find me on Facebook at AGypsyJudge.  My blogs appear at the right-hand corner of this screen as well as on the Blog tab, again on the right-hand corner of that screen.
What is Footprints on My Soul – Journal of a Circuit Court Judge? Through the lens of my private thoughts and feelings, I describe my view from the Bench. The book is written as a travel memoir, describing my solo trip around the country in my RV after I retired; I weave into that linear progression the stories of some of the people I met while on the Bench.  The book is not a legal analysis or political discussion; instead I focus on the humanity I encountered. Many of the cases I depict involve children – children who were believed and then protected by the adults they trusted, and those who were not. Other cases involve ordinary and extraordinary people who came seeking justice. I candidly describe my professional struggles to do justice, including my decision to impose the death penalty twice. There are many interpretations of "justice," and in the book I hope to challenge the certainty of your own definition.
Witnesses are often required to tell in public their darkest secrets, and this is particularly difficult for child victims. My stories include secrets – a few of my own as well as some I was privileged to hear from the Bench. With these stories, I share the lessons I have learned of the immeasurable value of listening and believing. To provide a framework for these stories, I tell my own story as a female in the Deep South, raised in a conservative culture with strict expectations. I describe the turmoil and uncertainty that led to my decision to leave the Bench after ten years, and I take the reader on my extended solo RV trip around the country.
My story was originally published under the title, Public Secrets and Justice – Journal of a Circuit Court Judge. I am pleased with the new edition and its title; these truly are the stories of those little footprints left on my soul by the children I was privileged to meet through the legal system.
You may purchase autographed copies of Footprints on My Soul – Journal of a Circuit Court Judgefrom my website, www.LauraMelvin.net, where addition information about the book and author is also available or you may purchase below by clicking the "PayPal Order Now!" button. You may contact me through this blog or by email at gypsyjudge@yahoo.com.  You may follow me on Facebook at AGypsyJudge and at FootprintsOnMySoul. My book is also available on Kindle, through your local book store and Amazon.com.