For months that turned into years that felt like decades, I followed CDC guidelines for COVID, common sense, and a sense of respect for others. I spent most of the last two plus years in the high desert because it felt safer. Now with changes in vaccination and transmission rates, I've eased into greater freedoms, wary and optimistic, with an ear tuned to the scientists.
Yes, the gypsy is back on the road. I simply enjoy travel. It takes little to trigger a road trip. A phone call from my granddaughter, "BruBru, can you come take some action pictures of my volleyball games?" 1,600 miles later, and I'm in the stands with my camera, amazed how quickly she's growing up.
Other calls to "Go" — it's smokey here, or the chilies have been harvested there. Anything, really. I figure as long as I have my dog, phone, and credit card, everything else is a detail subject to change. Long range planning is not my style.
For me, the Mississippi River is a powerful image – a line in the sand that separates two unique worlds, each very dear to me. Northwest Florida, where I was born, raised, worked and retired. The place to which I will always have strong ties and shared roots. And then there's the high desert and all the things I love there. The metal bridge over Ole Man River is like the net on a ping pong table; I bounce back and forth. It is a semipermeable membrane that separates distinct realities, while allowing love to move freely. I look forward to crossing it, heading east and west.
Northwest Florida is a world loyal to Trump, DeSantis, and even Gaetz; a place where "conservative Christians" are vocal and enjoy much influence. A place filled with people whose perspectives I do not understand or agree with — kind people who remind me to be open to views different from mine. A world of live oaks, azaleas, magnolia blooms, and gardenias. Fallen oak leaves blanket dark soil; farmlands wear a mantle of red clay; the Gulf of Mexico is wrapped in an apron of sugar white sand. The air smells of salt water, freshly tilled fields, peanuts and cotton.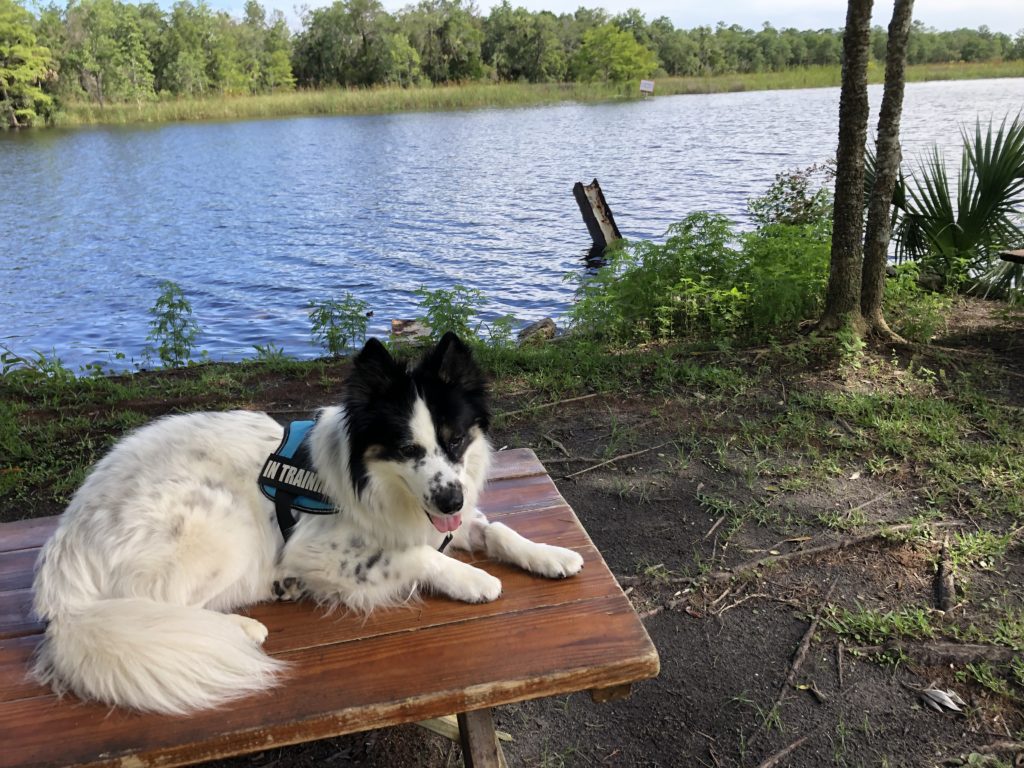 People speak slowly with strong Southern accents, share fried mullet and hush puppies, grits and eggs. A world where the humidity is as high as mid-morning temperatures in the Arizona desert.
And then there are those high deserts – a stark, diverse beauty that surprises. Southeast Arizona is a place where people make note of the water flow in the San Pedro River (most of it is dry right now); hundreds of rivulets or arroyos (riverbeds) trace the desert floor — they are dry and boast of a brief water flow only a few times a year.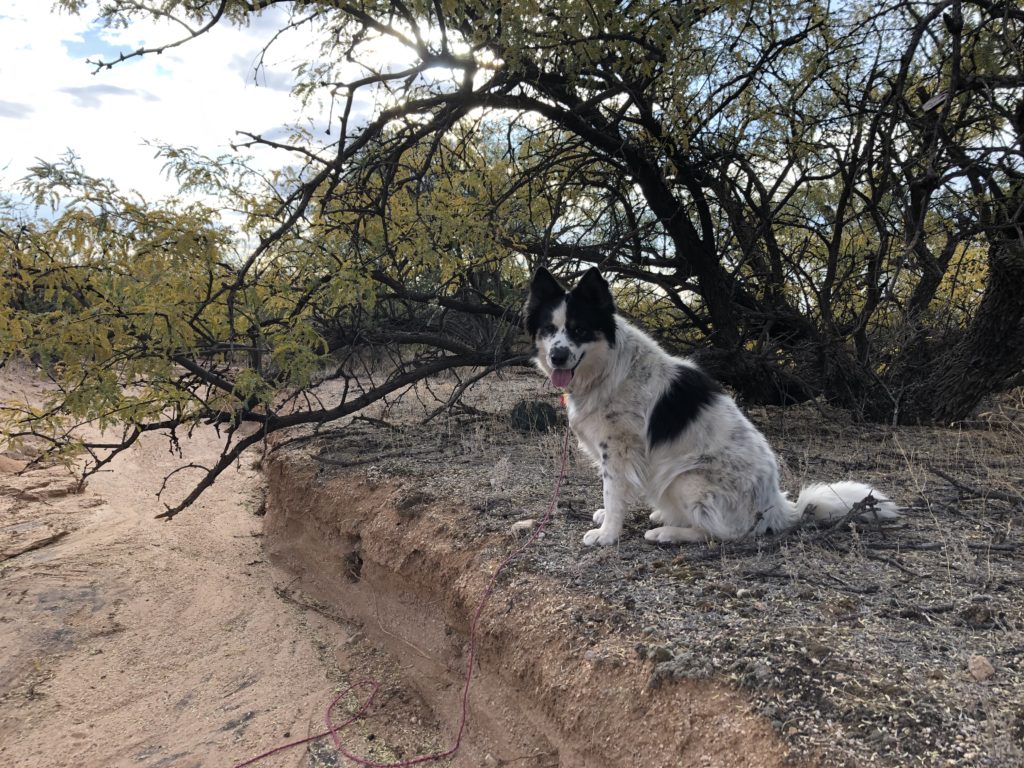 In SE Arizona, when it rains "hard", the rocks under the van remains dry. In the desert you can go months without turning on your windshield wipers. When folks speak with pride of how much it has rained, I note without comment that the rain dots on the road don't connect. Cacti bloom crazy, diverse colors and shapes.
In the deserts of Arizona, it is not uncommon to have single digit humidity. People in Arizona say I have a Southern accent. The RV Park in Benson, AZ is at an altitude of 3,600 feet with jaw-dropping views to the east of the Chiricahua Mountains (and a bit further to the east are the Dragoon Mountains in which the labyrinth of Cochise Stronghold hides).
Benson, (population 4,857) sits on Interstate 10 about 40 miles east of Tucson and 15 miles north of Tombstone. Southeast Arizona has perfect weather in the winter — mild temperatures, low humidity. But I don't do well with serial days at 100+ degree temperatures with 5% humidity, and so you won't find me there in the summer. Silver City, NM, about 150 miles to the northeast of Benson, sits at 5,900 feet, and is much cooler. Silver is a small artsy town (population 9,530), home to Western New Mexico University and Aldo Leopold Charter School.
The Gila Wilderness sits on its northern border; to the south the high desert serves up endless vistas of mountains and openness so vast you can see to Mexico.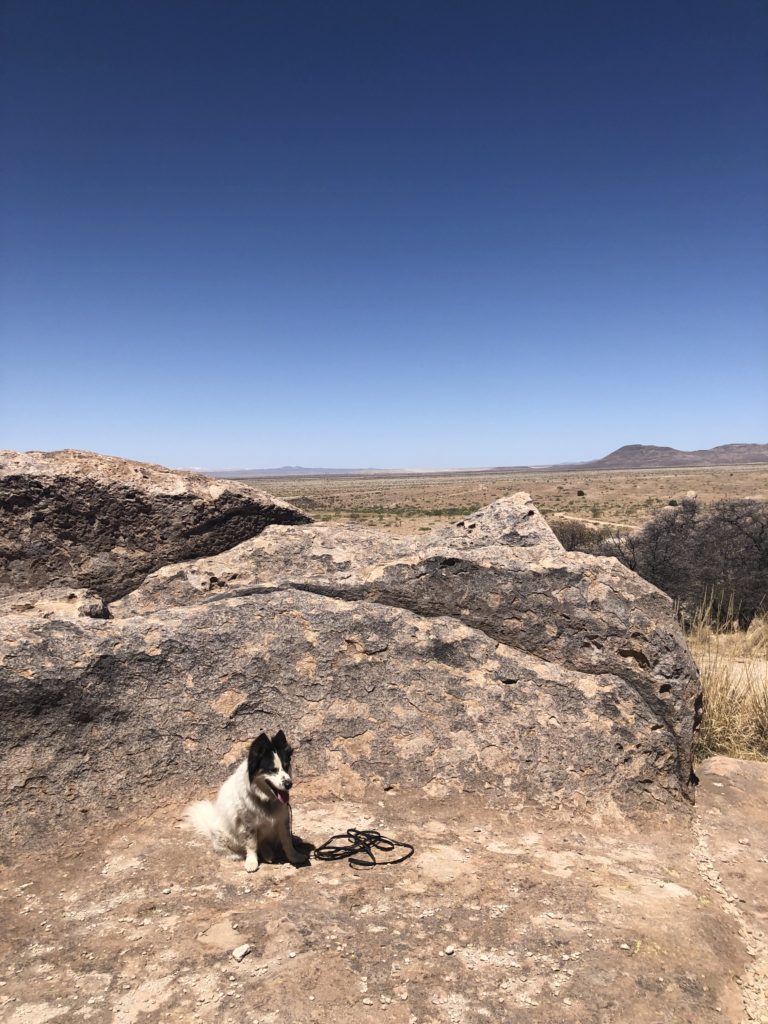 The people in Silver City are as diverse as the land, and there's a great deal of community action. Gila Friends (Quaker) are an active part of the community, and an important factor in my returning there as often as I can. Silver City is 60 miles north of Interstate 10 and the railroad that run through Benson. Silver has only a small airport that offers flights to Albuquerque and Phoenix. Its isolation has protected Silver City from the explosive growth endured by Santa Fe, Taos, and Boulder. I'm glad.
I'm also glad it's safe to come out now – as long as I keep an ear tuned to the scientists.